Preferred Customer Program
Welcome to the Bloomingville Preferred Customer Program! We want to reward you, our loyal customer, for continuing to grow along with Bloomingville over the past few years and for years to come!
BENEFITS
As a Bloomingville Preferred Customer, you'll enjoy a host of benefits as a reward for being our loyal customer.
No individual order minimum to receive your discount
The flexibility to order what you need, when you need it
Your discount is applied at line item level, allowing for accurate retail pricing and margin evaluation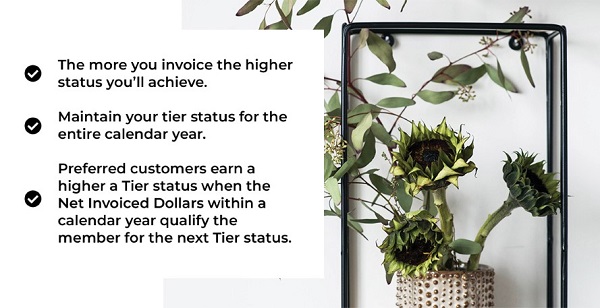 EARNING TIER STATUS
With the Bloomingville Advantage Program, the more you invoice (Advantage Status based upon Net Invoiced dollars within a calendar year), the higher the status you'll achieve. A "calendar year" is understood to mean January 1st – December 31st of each year. Members must re-qualify for Advantage Status each calendar year.
MOVING TO A HIGHER TIER STATUS
Advantage Members may earn a higher Advantage Status when the Net Invoiced dollars within a calendar year qualify the member for the next Advantage Status.
MAINTAINING YOUR TIER STATUS*
Once the Advantage Member has reached a qualifying Advantage Status, the Advantage Member may keep such status for the calendar year in which status was earned and the subsequent calendar year.
*Preferred Customers with open terms must remain in good credit standing. Any current Creative Co-Op Advantage Program member is automatically granted SELECT status for the year with any Bloominvgille order.